Multi Year Cases Shouldn't Cost Multi Millions to Host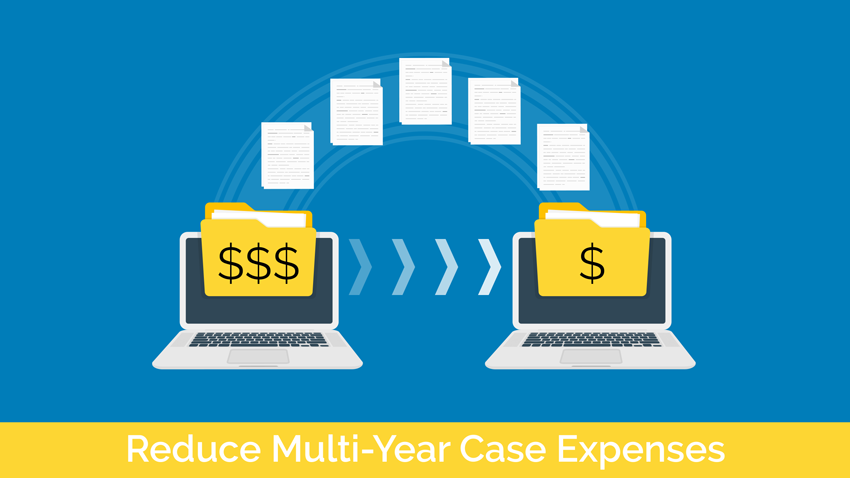 Multi-year cases produce a ton of eDiscovery and ESI data, requiring more space than maybe your current system and inhouse resources can handle. Between the disparate types of trial documents like email, social media, drop box, text messages, video, audio, graphic, and PDFs, your systems and IT may quickly reach their limitations when you need immediate access the most. Hosting, accessing, and managing legal data can be a stressful and costly aspect of litigation, but it doesn't have to be.
Identifying your pain points
Start by defining the problems you are experiencing with your current eDiscovery platform vendor and what it is you need. Are you looking for:
Better pricing: Does your current vendor charge ongoing and recurring maintenance, upgrade, licensing, and other hidden fees?
Better features: Does your current vendor make it easy to share documents? Do you have to purchase add-on tools to accomplish your discovery workflow? Is the system intuitive and easy to use?
Better service and support: Does your current vendor have support staff with litigation knowledge? Do they provide a dedicated tech support manager that is familiar with your firm's business?
Better accessibility: Does your current vendor limit the number of documents you can see at one time? Do you have access to your data when and where you want?
Better bandwidth: Does it take too long to upload data to your current vendor's platform? Are you waiting too long for a search to return results?
Removing the stumbling blocks
Many firms feel like their case data is stuck where it is in a system that doesn't meet their needs because physically moving the data, maintaining coding, metadata, images, and productions, while minimizing downtime seems impossible.
When you work with a cloud hosting provider and review partner with expertise in storing, managing and retrieving voluminous trial documents, the planning and migration process between platforms is not only possible, but seamless.
If you can move the natives, images and metadata you produce outside of a system, you can use the same method to move that data between document review systems with a loadfile output format, or DAT, which can then be easily exported and ingested into a new system. The important work product like document coding, user action attribution, and editable redactions can then be exported with custom workflows.
Using a proven protocol
With our proven protocol for transferring your data, you do have the time and budget to make the transition with JURIS LTS. Working with our hosting partner, we load, host, and backup all your data so that your documents are readily available to you and your legal team anywhere—in just 6 steps.
Step 1: Notify your current provider of your intentions to remove the data from their system and that JURIS LTS will be running point on your behalf moving forward with transfer logistics.
Step 2: Schedule a call between us and your provider to determine migration process, timeline, expectations, etc.
Step 3: Take possession of external drive and begin the transfer and staging process.
Step 4: Agree upon a go-live date as your data is being ingested.
Step 5: Coordinate and conduct end user training, provide access to online tutorial videos to refer to at any time.
Step 6: Go-live with case for end users, provide hands-on real time support to answer questions.
When you work with JURIS LTS to move your case data, you get a more cost-effective solution. Some hosting competitors can cost twice as much as others. With our host partner, we are able to save our law firm clients (and their clients) up to 50 percent on their monthly hosting for multiyear cases inclusive of multiple terabytes of data.
With our technologies and proven protocol, as well as a personalized custom approach, we ensure the highest level of technology, service, security and efficiency at every step of the transfer process—and after. For more information, email us now or call (888) 991-8108.